Event Staffing
3 Ways to Streamline Event Staffing
3 Ways to Streamline Event Staffing
Today, crewing/staffing events can be faster than ever and open lines of communication makes events easier for everyone. Are you crewing faster than ever before? If not, consider the following focus areas to speed up your processes!
How is staffing done for an event today? It's not efficient - or pretty. Most folks don't use event staffing software or freelance crewing software. They're still reliant on the manual processes they've always used (phone tag, whiteboards, spreadsheets, Google docs) because despite the numerous options for workforce management software on the market, it's hard to find one designed specifically for events.
Luckily, there is an industry-specific event staffing solution. A scheduling software made specifically by the live events industry, for the live events industry can bring your event staff management into the 21st century. Crewing software will give you hours, or even days of your life back.
Can you imagine...
Staffing your entire event in just a few minutes?

Communicating with your entire event staff in just a few clicks?

Consolidating and sharing crucial (ever changing) event details?
What could the future of event workforce management look like for you? Are you ready to trade in your old tools for new tricks? Here are just a few ways your job will become easier if you adopt the software created for the industry by the industry. 😏
#1: Facilitate staffing your entire event in just a few minutes
Use an event staff scheduling software that empowers you to create your event, outline exactly what shifts and positions you'll need, and then send out those opportunities to the relevant AV freelancers or event staff in your database.
If done through our scheduling software, within just a few minutes of extending opportunities to your production crew or event staff, you'll start to see crew accepting job opportunities.
Another great feature to this event scheduling solution is that you can see your cost estimates up front. And that doesn't just mean pay rates - you understand the whole context for your AV freelancers: when they last worked for you (so you're not overloading your people), what their hourly cost may be depending on their market, whether they're working overtime, etc., and then their total cost for staffing or crewing them on this event.

From this example, you can see that pay rates can't tell you the whole cost of labor every time.
#2: Simplify communicating with your entire event staff or production crew with a few clicks
Phone calls are great - when people actually pick up their phone or check their voicemails. Unfortunately, that's not the reality for most of us who work in event staffing.
Nowadays, people are used to receiving news and communication via our mobile phones. Even though 79% of adults have their smartphones with them for 22 hours a day, 90% of mobile time is actually spent on apps. So, if you want to meet your production crew and event staff where they are at, it's time to use a crew management software and app that speaks to them digitally.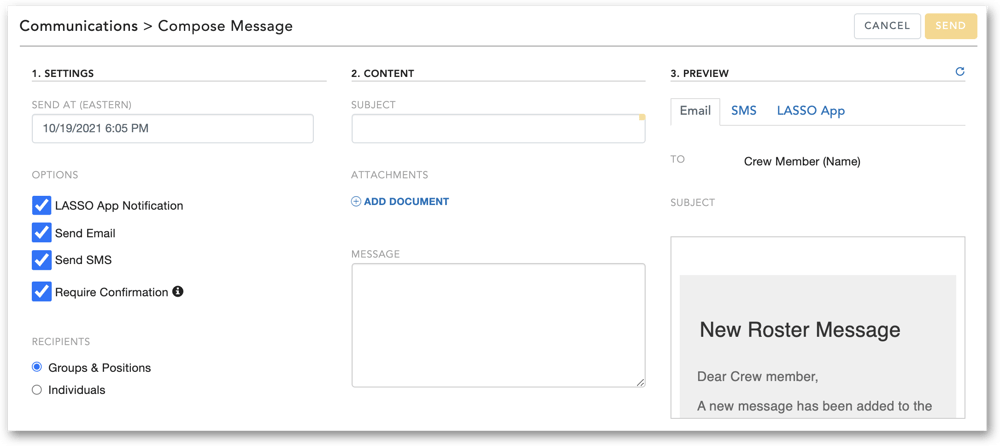 LASSO's crew communication software makes crew management for live events so easy. You have the option to send app push notifications, emails, text messages or all three, and you can schedule these strategically. For example, you may choose to email the floor plans and site maps two weeks in advance, then schedule another reminder a couple days before the event for call time, and use text messages if there are last-minute changes to plan.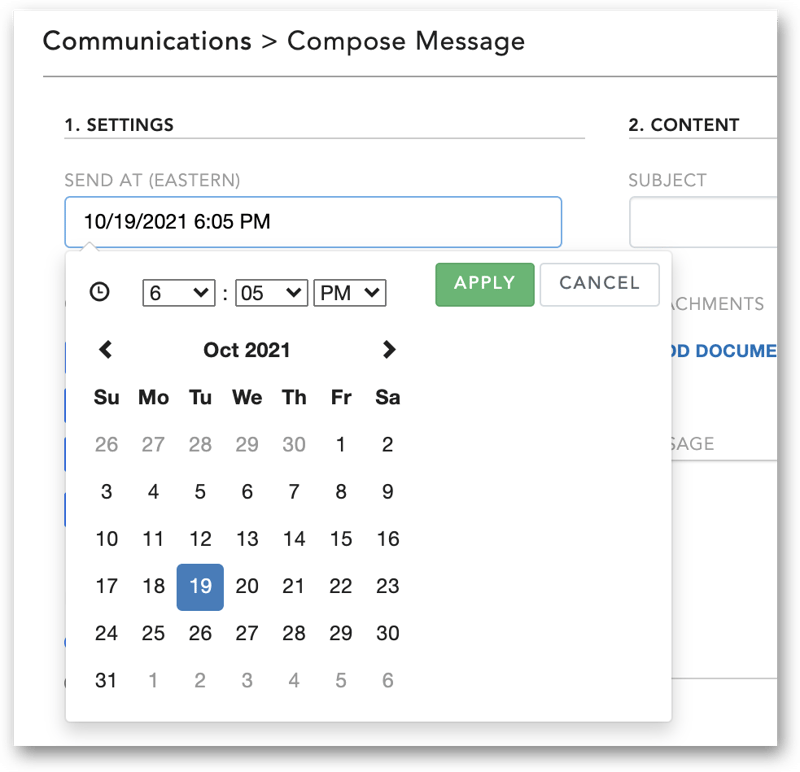 LASSO's crew communication management allows you to schedule your messages to your production crew proactively with the scheduling feature.
#3: Consolidate how you share crucial event information
Good crew planning software doesn't just make life easier for your labor coordinators and event producers. The best crew management software or apps make your crew love to work with you because you are able to empower your staff to be better at their jobs.
That's where an easy-to-use, comprehensive gig management app makes all the difference to your production crew.

LASSO's crew management app:
Notifies users of new job opportunities

Allows staff to submit their availability for those job opportunities

Receive critical event info like floor plans and call times

Sync events with their personal calendars

Receive and track their travel itineraries
…and more
On-site project managers and crew leads will love how easy the app makes it to do their jobs, too.
You don't have to wait for the future to make this your regular event workforce management system. Whether you're staffing hundreds for a massive event like college game day or the Superbowl, or you're curating top AV talent for a boutique event, you can tighten up your event staff management with easy, cost-effective tech tools that will change the way you approach event workforce management - in the future and beyond.